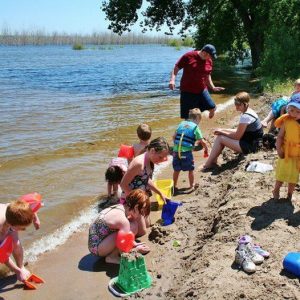 Lake McConaughy Information
Nearly everything about Lake McConaughy is big. At 30,500 surface acres it is Nebraska's largest reservoir with over 100 miles of shoreline. At full storage, the lake is 22 miles long, four miles wide, and 142 feet deep at the dam. The dam is among the largest of its type in the world and its fish grow to trophy proportions, accounting for several state records. Even its nickname, "Big Mac," reflects its size.
Located eight miles northeast of Ogallala, Lake McConaughy State Recreation Area is known to most Nebraskans and residents of neighboring states as a great place for outdoor recreation. Lake Mac's white sand beaches and clear waters are a favorite with campers, boaters, jet skiers, wind surfers, swimmers, water skiers, surfers, picnickers, scuba divers, hunters, anglers and others seeking outdoor fun.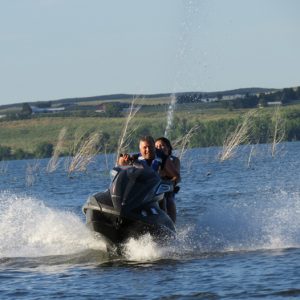 Fishing has long been the primary drawing card at Big Mac, with its cool, clear, deep waters. Game fish vary from sporty rainbow trout to the everyday catfish. Prized most highly by the local angler is the walleye, and Nebraska's current state record of 16 lbs. 2 oz. came from Big Mac. Also top ranked is the white bass fishing. In recent years, a close relative of the white bass has been stocked, and the striped bass offers a tackle-busting contest an angler will not soon forget. Although smaller in size, the smallmouth bass provides some dynamite action.