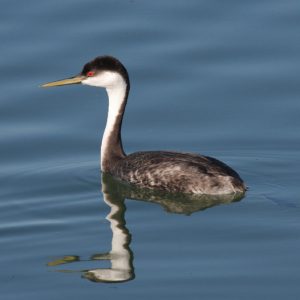 Due to habitat diversity, Keith County, Nebraska is considered "the best place in the state and the third best in the country to go birding," according to noted ornithologist and author Dr. Paul Johnsgard, UNL Professor Emeritus. Our location on the Central Flyway and proximity to large bodies of water add up to ideal conditions for birds.
The large water area attracts large numbers of migrant waterfowl, grebes (especially western grebes), gulls (including many rarities) and shorebirds. A good spotting scope is needed to cover this vast area, but many of the waterfowl congregate near the spillway during winter, or (in the summer) toward the western end of the lake near Eagle Canyon Hideaway and the Clear Creek Wildlife Management Area.
The lake region is also the best place in the state to view America's national bird, the bald eagle. Eagles gather in large numbers during the winter months below Kingsley Dam on Lake Ogallala.  They can generally be seen during January and February.  The Kingsley Hydroplant creates open water, which allows the eagles to fish for food. Central Nebraska Public Power and Irrigation District maintains a public eagle viewing facility below the south end of Kingsley Dam. Vehicle permits are required within the state recreation area, and they may be purchased at the Visitors Center, several local vendors, or online at https://www.gooutdoorsne.com/login.
Each March and early April, over 20,000 Sandhill Cranes visit a 15-mile portion of the North Platte River between Lake McConaughy and Oshkosh, NE on their way north for nesting season.  They roost overnight on the sandbars and islands, and the evening fly-in on the river can often be viewed south of Lewellen.  During the day, the cranes feed in cornfields and meadows north of the river.  They can generally be spotted from county roads north of HW 92 from Lemoyne to Lewellen. Please be careful not to startle the birds and remember to be respectful of private property.